May we present to you: FtS(soundslikechicken).  This younger sibling to FtS was (and is once again) the musical better half.  Dig? Dig again?
It's almost guaranteed you haven't heard A Tribe Called Red … but after you read this FtS(soundslikechicken) post you'll have no excuse whatsoever for not having heard of them at the very least.  I don't know much other than ATCR are a couple of Native DJs from Ottawa, Canada (primarilly DJs Shub and NDN) who do some pretty powerful dub-step-ish drum music.  The videos that accompany the music are created by a gentleman who goes by the name of Bear Witness (the third member of ATCR) and they are a very mesmerizing addition to the trance-like drumming and Native singing.  Oddly enough it kind of begs the questions of why haven't we heard of ATCR and why haven't we heard more Native music mixed like ATCR mixes it?  Rather than do all of the work for you, I'm going to leave it to you my faithful reader to search the interwebs for what is likely unlike anything you've heard recently.  But, I did want to give you a taste by posting this video for "Electric Pow Wow Drum" … if nothing else, anyone who uses a clip that includes Crispin Hellion Glover deserves your attention … right?
Shellac at the VAC
(post) October October 28, 2011

So MANY people missed out we here at FtS almost feel bad for you all, but then again it meant a lot more space for us to wiggle up near the front of the stage to get our math rock swagger on … and swagger we did.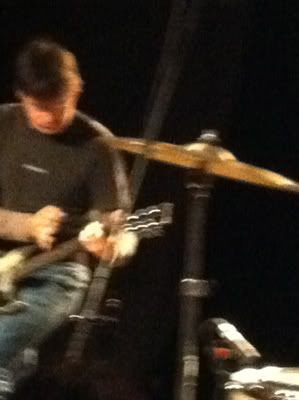 Flaming Lips
(post) October 3, 2011 – Okay, so we know that many of you have already seen your friends' social media posts of the Flaming Lips concert in Boise. Consider us to be on the official bandwagon driving back and forth over the dead horse if you must, but since FtS(blog) bothered to send a photographer and writer to the show we wanted to share the fruits of their labor.
Three weeks later we got 6 photos and the following one-line review: "Wow, that shit was better than I thought it was going to be."